About Us
About The Garrett Founders
When Eleanor and I first began selling and marketing our metal detectors in 1964, we focused on making the best metal detectors and selling them at a fair and reasonable cost. Since that time, we have been dedicated to making sure our customers are our number one priority.
The Garrett name has come to stand for more than metal detection; it is a philosophy for unparalleled customer satisfaction. While it is true that we believed then, as we do now, that our metal detectors could lead the industry in capabilities and results, we recognized early on that commitment and loyalty to our customers would be our true source of success.
We have learned over the years that there is no price advantage program, special product feature or other promotional advantage that can replace a satisfied customer. We stand behind the idea that one happy customer can be more valuable than the most elaborate advertising campaign. Customer satisfaction will never go out of style and a company that is willing to provide it will always be held in high regard.Now, as Garrett moves through the 21st century, the company has set goals to empower our customers with better products, better technology and better information.
Garrett's mission is to continue the tradition of building great hobby and security detectors for many generations to come.
Charles Garrett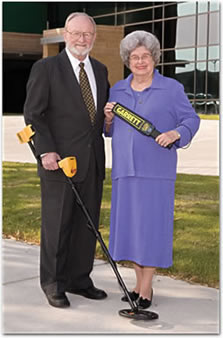 Garrett Quality Policy
Garrett Metal Detectors is committed to the design, production and distribution of products and services that enhance customer, employee and business partner performance, satisfaction and quality of life.
We will pursue these goals with a quality management system that actively includes planning, implementation and review of policies and procedures to achieve continual improvement in the operation of the company and its products and services.

Garrett in Australia
Garrett products are distributed throughout Australia by Garrett Australia. We will continue to deliver the quality products and service that the Garrett brand stands for and has stood for since 1964.